Radio Shields speaks to Emma Lowell- Buck MP
We've had a brilliant day at South Tyneside Parade and festival. It was lovely to catch up with our MP Emma Lewell-Buck MP
Have a listen as we broadcast live from outside South Shields Town Hall!
Radio Shields chats to Ray Spencer MBE
We spoke to Ray Spencer MBE The managing Director of The Customs House South Shields. We asked him what South Tyneside Parade and festival means to him. Click Play on the right to hear the interview recorded live from Bents Park South Shields on Saturday 2nd July 2022
Primary School raises money for defibrillator
Students, staff and some govenors have embarked their first ever Monkton Academy Sponsored Walk, with the aim of raising enough money to purchase a defibrillator to be placed outisde the school gates for use by the school and the wider community.
All children chose to either walk from The Stadium of Light via the coast back to the School or from Seaburn along the coast to South Shields Town Centre. Jacqui Lamb spoke with Mrs Allison Moat the PE lead, and some of the children during their lunch.
Beacon-lighting ceremony in honour of Queen's Platinum Jubilee wows crowds on Lawe Top in South Shields
The lighting of the beacon on the Lawe Top in South Shields concluded the first day of the four-day bank holiday weekend of celebrations honouring the Queen's 70 years
More than 3,500 beacons were lit across the UK and throughout the Commonwealth as part of events to mark the jubilee.
The Mayor of South Tyneside, Councillor Pat Hay then lit the main beacon on the Lawe Top.
The event included music from local choir Choirmaster, Westoe Brass Band, a trumpeter and piper Major Paul Hamilton.
Managaing Director of Customs House, South Shields Ray Spencer guided everyone to the lighting of Beacons at the same time in other towns and cities from across the United Kingdom and Commonwealth.
The only girl in South Tyneside born on The Queens Diamond Jubilee in 2012!
A South Tyneside girl is celebrating 10 years after recieving a special coin from the Queen.
Lucy from Westoe Crown in South Shields who will be celebrating her 10th birthday on the Queen's Platinum jubilee next Thursday is showing off her special coin to mark Her majesty the Queen's 70 years on throne.
You can listen to the interview by clciking playing play on the right.
Town remembers teenage sweethearts
The town unites to remember Chloe and Liam as it's now 5 years since that awful moment happened at The Manchester Areana. Chloe & Liam Together Forever Trust has already touched hundreds of young lives in the North East in the five years since the horror of the Manchester attack.
Teenage sweethearts Chloe Rutherford, 17, and Liam Curry, 19, were among the 22 people killed in the Manchester bombing atrocity on May 22, 2017. The couple, who'd dreamed of getting married one day, were 'inseparable' in life – and now their names are forever joined in a charity which helps local young people follow their dreams.
People can donate to the Chloe and Liam Together Forever Trust or find out how to apply for the trust's help at: https://www.facebook.com/ChloeAndLiamTogetherForever
Local Hero meets Newcastle United Manager
A community hero Nico Community from Jarrow who went above and beyond for his community has written two books about his emotional journey throughout the pandemic. Nico Ali, who ownes Scotch Estate Premier Top Shop, South Shields donated a number of items to support the NHS, and provided for his local community every day during the first lockdown in the United Kingdom. Now Nico has written two books about his long, emotional journey.
This week Newcastle United manager Eddie Howe received complimentary copies of his two books. The first, The Extra Mile, and book No two, Sentimental Journey, just published and now available. To purchase. Message our page on Facebook or Email us to purchase your copy admin@radioshields.co.uk
Band Legend Lindisfarne & Trustee of Sunday for Sammy chats to Radio Shields
Michael Patterson has been chatting with Ray Laidlaw whos a founding memeber of the legendary North East band Lindisfarne. Now, Ray is involved in a number of projects, events and much more including one 'a Sketch for Sammy' which is on at The Exchange Theatre and Bar on Sunday May 15th.
Listen to the interview above and for details of the show at the Exchange or to book your tickets CLICK HERE
NEW Safe HUB launches in South Tyneside
SURT (Stopping Unsafe Relationships Together) work with children and young people aged 11-24 living in South Tyneside who are experiencing or have been affected by intimate partner abuse, sexual exploitation, criminal exploitation, honour-based abuse and stalking and harassment.
SURT has been running as a new initiative since May 2021. It was co-founded by Claire Amans and Leanne Hansen in response to the reported increase of abuse within relationships during covid-19.
The facilities, which are locally based to increase accessibility, also provide children and young people with opportunities to develop personal and employability skills, promote self-confidence and raise their aspirations. Children and young people will also be able to engage in volunteering opportunities and community projects, providing them with opportunities to give back to their community.
Northumbria Police and Crime Commissioner, Kim McGuinness, said: "This new hub is full of opportunity and guidance for young people. A place to learn about relationships and respect and to have that all important sense of belonging.
It really is a superb space – a safe space – a safety net to catch young people – a place to help make things OK. We shouldn't need places like this but the reality is we do, and there are not enough of them, and so I am happy it's here and it's up and running for the children and young people of South Tyneside."
Local singer, songwriter goes the extra mile to show her support to Ukraine.
Lauren Amour, a local singer and song writer from South Tyneside has gone the extra mile to show her support to Ukraine by re-writing a popular song from the Black Eyed Peas – Where Is The Love and has reached over 3 million views on social media platform Tik Tok. Listen to the interview right here!
Plans to close South Shields Driving Test Centre
Campaigners have taken to the streets of South Shields to protest at the proposed closure of the driving test centre by the DVSA (Driver and Vehicle Standards Agency).
The test centre in South Tyneside is due to close in April and campaigners say this will have a negative impact on both learners and instructors.
Radio Shields reporter Martin Haskin spoke with Vicky Holt a driving instructor and lead campaigner.
Listen to the interview HERE
Local Station meets Sam Fender!
We have been supporting legendary folk band from the North East Lindisfarne Live
The band which features Rod Clements, Dave Hull-Denholm, Steve Daggett, Ian Thompson and Paul Smith were playing in their home town of North Shields on the 12th & 13th February.
By surprise Brits Award winner 2022 for Best Rock & Alternative Sam Fender surprised audiences as he came to support the performance on Sunday 13th February at The Exchange Theatre in North Shields.
The Station is working with management to organise an exclusive interview with Sam Fender.

Legend North East Band Lindisfarne on Radio Shields!
Presenter Michael Patterson has an exclusive interview with co-founder of Tyneside band Lindisfarne Rod Clements who is a singer-songwriter and multi-instrumentalist. He formed the folk-rock band Lindisfarne with the late Alan Hull in 1970, and wrote "Meet Me on the Corner", a UK Top 5 hit in March 1972, which won Clements an Ivor Novello Award. You can see them LIVE at The Exchange THIS February!
NEW South Shields football club manager!
Former Sunderland, Southampton and West Brom striker Kevin Phillips has been appointed as manager of Northern Premier League side South Shields.
The prolific striker, who was capped eight times by England, is taking on his first managerial role after holding coaching positions since retirement.
He replaces Graham Fenton as manager of the seventh-tier side.
"This is my first taste of management so I'm eager to get going and I'm very, very excited," he said.
Listen to the interview with Paul Anderson right here.
Radio Shields has officially launched on DAB across Tyneside.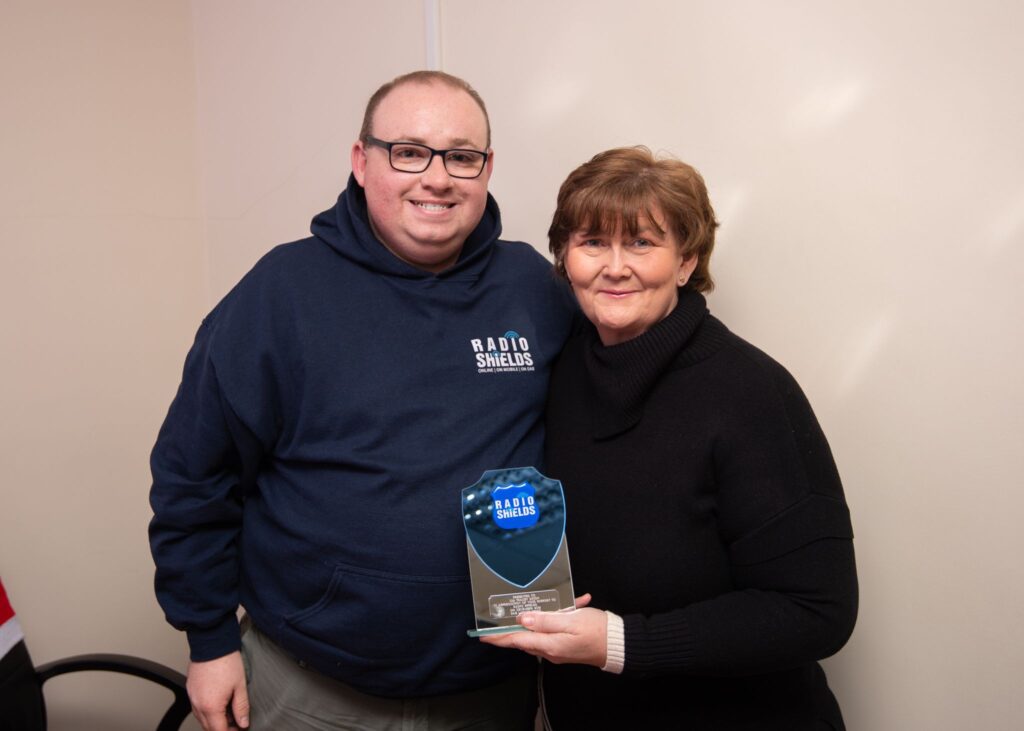 Radio Shields has now officially launched as a DAB Radio service for South Shields and Tynemouth, plus other areas. We kicked off on Saturday 11th December 2021 at 10am with a launch show. Kyle Scott who has driven the station since 2019 and was joined by Cllr Tracey Dixon, Council leader for South Tyneside, Ray Spencer who is the managing director of The Customs House and TV's favourite Pam Royle.
Award winning TV presenter supports Radio Shields!
Pam is a multi-award-winning, British television journalist, presenter and voiceover artist.
After more than 30 fantastic years as a Main Presenter with ITV Tyne Tees and latterly also ITV Border, Pam is now working independently as a voiceover artist and presenter. She's involved in a number of charity work including The Great North Air Ambulance Service, North East Ladies Day (NELD) and much more!
Pam is very interested in South Shields, and loves the fact that we now have a full-time community radio station which is launching on DAB Digital Radio and now is in touch with the station on a reglar basis offering her kind support to our volunteers.
On Wednesday 10th November 2021 Pam popped into our new look studios and met some of the volunteers including CEO Kyle Scott where in his early days was given the opportunity to gain some work expeirence at ITV Tyne Tees and met Pam and her Co host Ian Payne. Here are some photos below.
Presenter Jess Lamb recieves support from The Chloe & Liam Together Forever Trust
Jessica Lamb presenter of The Mid Week Bounce Show has received support from The Chloe and Liam Together Forever Trust to support her for her radio show here on Radio Shields.
Jess joined the station back in December 2019, and since then has been a regular and popular presenter with the station.
She said, "Thank you so much to the Chloe and Liam foundation trust for my bursary to support my radio show on Radio Shields. I think it's great that they support the youth of today to pursue their dreams and leave this wonderful legacy in the name of Chloe and Liam who we will always remember with love and kind thoughts. Much love from Jess and the Radio Shields team"
You can listen to Jess on Radio Shields every Wednesday night from 6 PM.
South Shields Firework Display 2021
We had a fantastic evening at The New Sundial broadcasting the South Tyneside Firework Displays It was great to see the team from Ocean Beach Pleasure Park, South Shields too.
We look forward to many more events in the very near future! If you have any photos from South Shields Fireworks hashtag us.
We set up our portable studio in The New Sundial Pub and our aim was to bring the atmosphere through the radio airwaves to those who may have not been able to make it.
Show to honour the memory of North Shields War Hero
A show has been produced by a professional theatre company and has been shown at The Exchange Theatre and Arts Centre in North Shields.
Thomas Brown was one of the youngest people to have ever received a George Medal. In October 1942, as a NAAFI canteen assistant, he was involved in the action between Petard and U-559, being one of three men to board the sinking submarine in an effort to retrieve vital documents, and was the only one of the three to survive.
These documents would later lead the Bletchley Park codebreakers to crack the German Enigma code. After this heroic deed, it was revealed that he was underage to be at sea. He returned home to North Shields. In 1945 he died from injuries sustained while rescuing his sister Maureen from a house fire in North Shields Ridges Estate whilst on leave from HMS Belfast. His family were presented with his medal by King George VI in 1945 and later presented it to the NAAFI in 1985.
On November 1st through to the 6th November, the production of "Fire and Water" is running to honour the memory of Thomas Brown at The Exchange in North Shields, and on the opening night, Radio Shields was invited to the show and spoke to the family of Thomas, the directors and some of the actors.
Click play on each of the media players to listen to the interviews.
Summit to stregthen commitment to sustainable South Tyneside
The council will be hosting a programme of events and activities for the community, businesses and schools from 1-5 November to tie in with COP-26 – the UN's 26th annual climate change conference.
It will focus on actions the council is taking to meet its ambitious carbon reduction targets, as well as how residents and businesses can play their part in tackling climate change.
Throughout the week, there will be opportunities for people to get involved in events and activities including film screenings, litter picks, vegan food tasting, nature walks and whale watching. There will be displays in various venues highlighting the council's innovative ocean projects, groundbreaking renewable energy networks and habitat restoration schemes.
Cllr Tracey Dixon, Leader of South Tyneside Council, said: "In 2019 we set ourselves the target of becoming a carbon neutral council by 2030 and our climate change strategy is now embedded in everything we do, from how we procure goods and services, to installing solar panels on schools or developing an ever-growing network of electric vehicle charging points"
For further information on South Tyneside Climate Summit Week, visit https://www.southtyneside.gov.uk/article/73595/COP26-Climate-Summit-Week
Special Honours Presented for Outstanding Services
Community champions, amazing achievers and Covid-19 heroes across South Tyneside have been honoured in style by order of Her Majesty The Queen.
The Lord Lieutenant of Tyne And Wear, Mrs Susan M. Winfield – the Queen's representative – presented awards to four recipients in a special ceremony at South Shields Town Hall, hosted by the Mayor of South Tyneside, Councillor Pat Hay, and Mayoress, Jean Copp.
While Susan McVeigh formally received her OBE, British Empire Medals (BEMs) were also presented to David Scrafton, Nilima Rahman and Joshua Trueman.
The Lord Lieutenant said: "I was delighted to present the medals to such worthy recipients. Each of them has made an outstanding contribution to our communities and their honours are richly deserved. My congratulations to them all!'
Prestige Awards winners in South Shields
This week we had the pleasure of meeting Mr Shah Choudhury who runs his family business Zeera Indian Cuisine in Ocean Road South Shields .
We congratulate them on recently winning Best Indian Restaurant of the year in the North East Prestige Awards 2021/22.
Zeera is also shortlisted as a finalist at the English Curry Awards for Restaurant Of The Year across the North East and Best Team Of The Year .

We wish them the best of luck in the finals later in October .
Listen to our interview with Mr Choudhury how Zeera coped during lockdown and helped the community and also their forthcoming events.
Listen to the interview below.
Feast Festival at South Shields Market
The last weekend of September saw The Feast Festival at South Shields market place. The station covered the event with a live broadcast over the two days working together with South Tyneside Council.
Below, we've put together a gallery so you can see how the event went

We wish them the best of luck in the finals later in October .
Listen to our interview with Mr Choudhury how Zeera coped during lockdown and helped the community and also their forthcoming events.
You can also listen to an exclusive interview with Tracey Dixson, Leader of South Tyneside Council who tells us everything about the event.
Listen to the interview below.
Feast Festival Gallery
Raising Money towards The Bradley Lowrey Foundation
A charity football match is being played in South Shields to raise money for the Bradley Lowrey Foundation and a leading autism charity.
It's being organised by newly formed club Black Cat Rovers.
Our reporter Paul Anderson popped to the Harton and Westoe Miners Welfare ground, where it's being played, to meet co-founder Karl Mawson.
Local School Sends Letters of Support to England FC
St Bede's School in Jarrow has sent in letters of support to England Foot Ball Club following the racism abuse they experienced. This week presenter Daniel Thomas spoke with Year 4 and their teacher Miss Romano. You can Hear the interview below.
NORTH EAST TO SHARE IN £1 MILLION INVESTMENT TO HELP YOUNG PEOPLE PREPARE FOR A NET ZERO WORLD
Young people in the North East of England are set to share in a £1 million investment during the construction of Dogger Bank Wind Farm to prepare them for working life in a net zero world.
In a programme developed in partnership with local authorities in the North and North East of England, the wind farm will put science, technology, engineering and maths (STEM), at the heart of children's education, to help them prepare for the jobs that will be vital to the green economic recovery of the UK.
All 18 secondary schools in South Tyneside will have the chance to increase and expand their current science, technology, engineering and maths provision. The programme in South Tyneside will focus on the primary to secondary school transition, with specialist training provided to enhance the skills and experience of teachers. The funding will also be used to enhance careers services for school leavers.
South Tyneside Mayor visits Radio Shields
South Tyneside new Mayor and Mayoress visited the radio station and was very impressed with our set-up and how we work. The Mayor cllr Pat Hay said: "Great visit today to Radio Shields, nice to have a local radio station in our town of South Shields. All the service is run by some lovely volunteers. Thanks for having my Mayoress and I do radio interview with you"
Presenters Jessica& Jacqui Lamb interviewed the Mayor to officially congratulate her on her new role and asked some questions about the town.
You can listen to the interview here.